Winter Activities
Hakuba has eight unique ski Resort, each ski area offers its own characteristics with a variety of slopes. At the foot of the Japanese Alps, Hakuba, has a rich variety of ski resort. This include Happo-one ski resort which hosted the downhill race at the Winter Olmpic Games in 1998. The course satisfies all skiers from beginners to advanced with an abundance of attractions.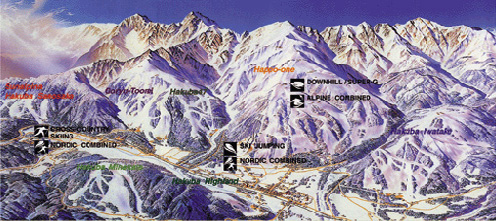 THE OLYMPIC VALLEY - 8 RESORTS - 139 LIFTS
Happo One - Hakuba47- GoryuToomi - Iwatake - Tsugaike -
Sun Alpina - Norikura - Cortina
Hakuba Valley Ski Resort Shuttle
There are ski resort shuttle buses come to Wadano Visitor Center to bring you to five different ski resorts. Shuttle buses run to Happo, Hakuba 47, Hakuba Iimori, Goryu and Iwatake. Customers who wish to go to Minekata, please ask staff at Visitor Center, and a shuttle van comes to pick you up on call.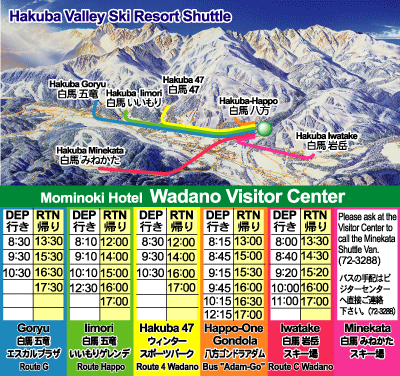 Buses also go to the Happo Sakka at 8:30, 9:00 and 9:30. When returning to the hotel, you can ski back to the Happo Kokusai and walk to the hotel (only 3 minuntes walk)
"RTN" time is the departure times of each ski resort.
Please wait at the bus stop in front of the Visitor Center, with the exception of the Happo Gondola bus which leaves from the bus stop across the street from the Visitor Center.
Occasionally the bus may be full and cannot stop to take more passengers. In this case, please wait for the next bus. You can also walk to the Happo Kokusai Chairlift (2 min).
When returning from the Gondola, please tell the bus driver your destination is Mominoki.
Time subject to change, please ask the front desk agent for the latest schedule
Winter Activities guided by Evergreen Outdoor Center
Cold temperatures and snowcapped peaks mean it is time for more winter outdoor recreation in the Japan North Alps. These amazingly jagged and steep peaks are comparable in terms of beauty and diversity to any major mountain range in the world. These mountains on average receive over 10 meters of accumulated snowfall between December and April. They stand just a little under 3,000m with their alpine zone starting at around 2,000m giving way to huge wide open bowls of deep powder. Evergreen continues to explore new areas deeper and further afield but find ourselves returning year after year to ride awesome powder on familiar lines on the numerous ski hills in the area. Allow Evergreen's professional staff to guide you to the very best areas in the backcountry and on the resorts. Whether you are an experienced veteran in the backcountry or are testing the slopes for the first time. We guarantee you will have a magical experience in the snow covered mountains of Japan.

Even if you are not a skier or boarder, come explore Hakuba's winter landscape by snowshoe or try cross country skiing on the 1998 Winter Olympic Nordic course or other special areas in the valley. Definitely one of the best things about a day out in the mountains is returning to relax and soak in an outdoor hotspring as snowflakes fall all around.

Evergreen also has some new and exciting programs this winter. Our new 'First Tracks' Powder Clinics will get you the early morning fresh powder lines of the day with tips and techniques from a knowledgeable instructor. Children will also have a ball in our newly designed Kids Camps and Daycare service. We have tons of fun-filled activities for playing indoors and out. For those interested in improving their ski or boarding ability why not join in a lesson with our qualified instructors from around the world. We offer lessons for young children through to the young at heart, from beginner to expert.

No matter what your ability or desired activity, Evergreen can set up a memorable winter get-away for you and your group. See you in the Japan Alps.

Evergreen Outdoor Center is located in the Wadano Visitor Center.
Evergreen Outdoor Center offers:
- Alpine Ski Instruction
- Snowboard Instruction
- Telemark Ski Instrucion
- Kid's Camp Ski School
- On-Mountain Guided Ski & Snowboard Tours
- First Tracks Powder Clinic
- Snowshoe Trekking
- Fullmoon Snowshoe
- Backcountry Tours
- Recrational Avalanche Course
Ski Rentals
Please see Visitor Center page for the latest model of high performance ski & board rentals.